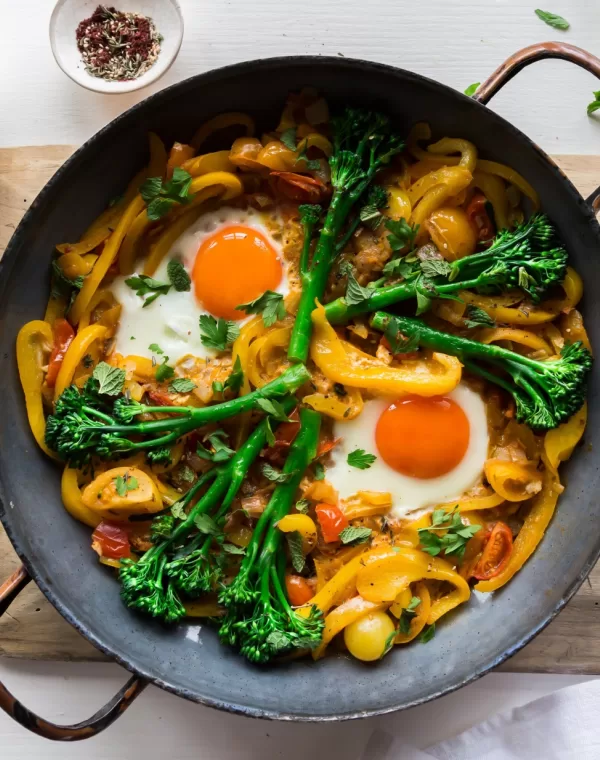 Bimi® Broccoli Shakshuka
Give your breakfast a Middle Eastern makeover with a delicious Bimi® broccoli shakshuka. This vegetarian recipe is perfect for those who like to add a little spice to their breakfasts and brunches!
Dietary requirements
Nut free
Pescatarian
Vegetarian
Method
Heat one tablespoon of the olive oil in a medium-sized frying pan, add the chopped shallots and fry gently over a low heat for 8-10 minutes, until soft and translucent.

Add the sliced pepper, ground cumin, fresh thyme, ground coriander and harissa to the pan and stir well.

Stir in the cherry tomatoes and garlic paste and cook for a further 15 minutes over a low heat. Stir occasionally, adding a little water if it is too dry, but only just enough to stop the mixture burning.

Make two wells in the mixture and crack an egg into each well. Cook very gently over a low heat for 5 minutes.

Meanwhile place the Bimi® broccoli in a steamer, or in a colander over a pan of simmering water and steam for 2-3 minutes until al dente.

Add the Bimi® broccoli to the shakshuka pan, arranging them around the eggs and continue cooking for a further 5 minutes until the eggs are set.

Make the yoghurt sauce by combining the Greek yoghurt, honey and lemon juice in a bowl and set aside.

Sprinkle chopped herbs and za'atar over the shakshuka and serve immediately with a bowl of yoghurt sauce on the side and plenty of fresh crusty bread.